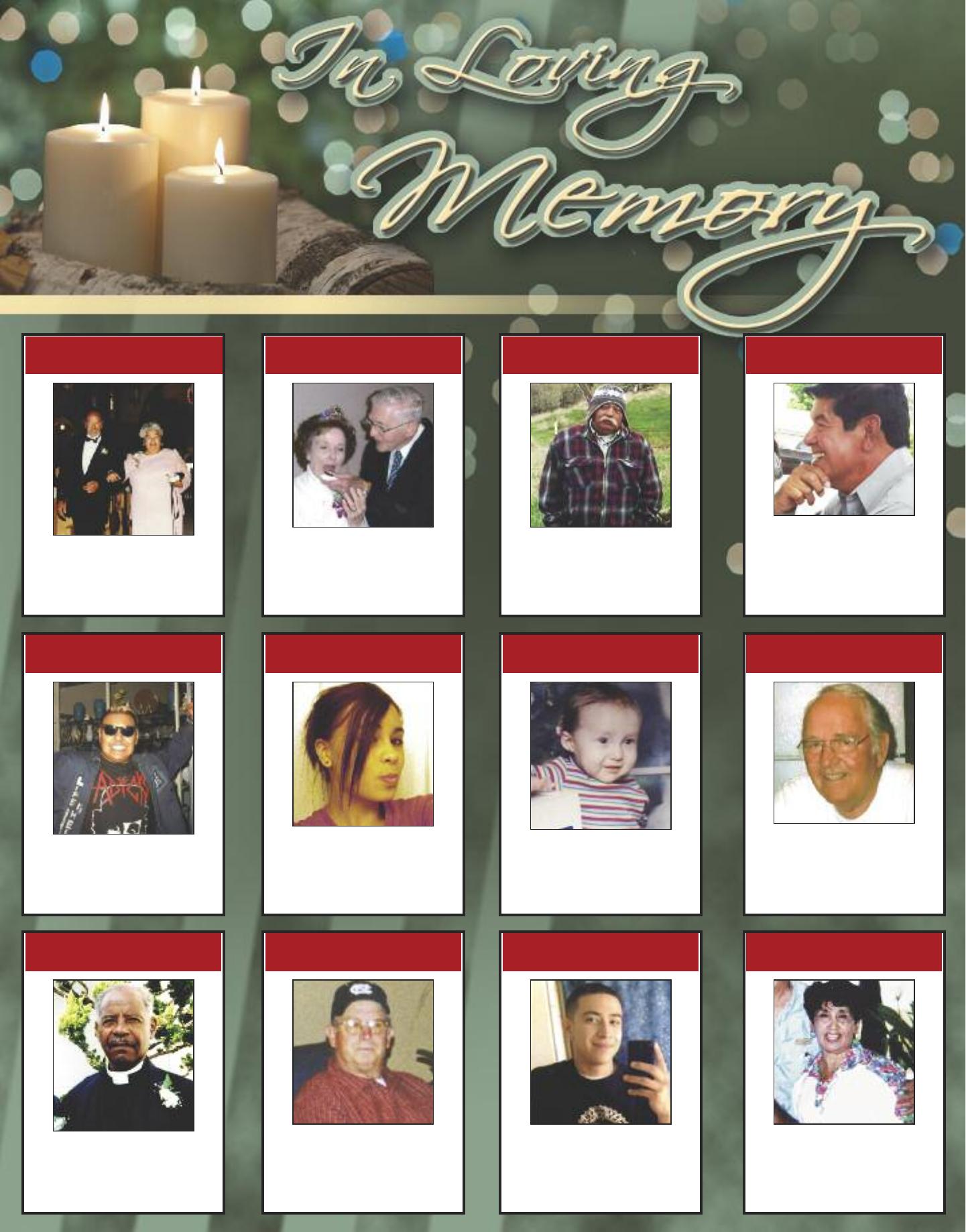 Mike Baca
Mike Baca
At this Christmas time we think of you being here with
our family.
We love you and miss you
G
od Bless you.
J
ennie Baca and family
Thornton Weymouth
Remembering Thornton December 17, 2013
Remembering my beloved husband Thornton Weymouth
Our song,
"I believe that God above created you for me to love,
He picked you out from all the rest because He knew I'd
love you best".
T
RUE! Love you forever. 
Rudy Dean Rodriquez
Remembering
Rudy Dean Rodriguez
D
ecember 1982 - December 2013
A
Gift From The Lord In December, To Be Returned To The
Lord's Open Arms.
L
ove, Your Family
Trinidad Roa Jr. "Eddie"
Remembering
Trinidad Roa Jr. "Eddie"
May, 1943- February, 2013
Eddie, You No Longer Have To Run The Moun-
tains Of Earth Because You Are Now Free
To Fly The Sky's Of Heaven
Love, Your Family
Happy Birthday Sunshine
Happy Birthday Sunshine.
Carla, Shell, me, family and friends remembering you
on this very special day. You are never far from our
thoughts.
We will miss you always. We love you.
Mom
Olivia Connie Hoff
Remembering our daughter
Olivia Corinne Hoff
.
Christmas is here again, your favorite time of the year.
Merry Christmas to our Angel Girl, Olivia.
Love you, miss you, 
Mom, Xavier and Manuel
Marina Shanchez
REMEMBERING OUR PRINCESS
MARINA SANCHEZ
Always thinking of our Angel, Happy 11th Birthday and
Merry Christmas. We often speak your name and cherish
every moment we had together. We love you, Mom, Dad,
Marissa & Johnny
Eugene (Gene) Tassey
In Loving Memory of
Eugene (Gene) Tassey
This will be our 4th Christmas without you.
Thanks for being a loving Husband, Dad,
Grandpa, Brother, & Friend. God has you in his
keeping, we have you in our hearts.
Norris Howard
Norris Howard
12/22/23-11/04/2013
Happy 90th Birthday Daddy
We Love & Miss you!
Willie, Ruth, Ira, Herod, Rachel, Deborah
Jimmy Dale Gibbons
In Loving Memory of
Jimmy Dale Gibbons
Jan 10,1938 - Dec 22,2012
We miss you so and loved you. You were a man that really
showed your love for Our Lord & Savior
Your Wife Dorothy,
Daughter Laura, & Son James
Matthew A. Romero
Matthew A. Romero
08/20/90-12/20/09
Another Christmas without you but our memories of
past Christmases with you we deeply cherish. We love
and miss you very much. Merry Christmas
Love, Mom, Dad, Sisters & Brother
Carrie Lomas
Carrie Lomas
1935-2003
It's been 10 years since you've been
gone. Another Christmas here! We miss you so
much. 
Always in our hearts, love you,
Your Family
2013